---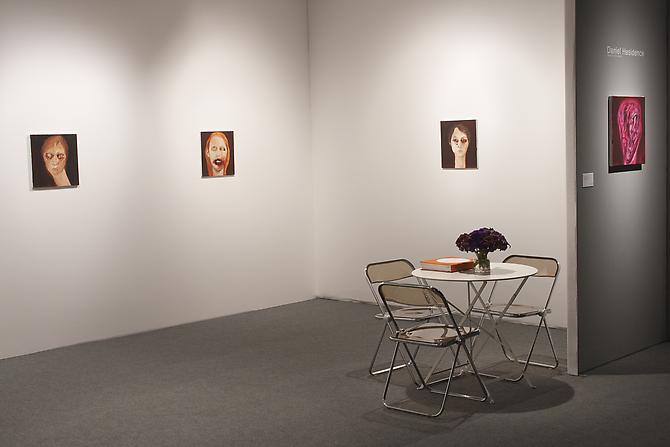 ---
Press Release
Daniel Hesidence: Volume Ten of the Whole
March 8 - 10, 2012
Beautiful Dreamer:
On Daniel Hesidence
and
Volume Ten of the Whole, 2000
It's a hundred years from now.
I'm dead. You're dead. And it doesn't matter.
Because someone else is looking at these paintings,
and can't turn away.
Enraptured,
they see something as never before,
something lost to sight
a long time ago.
The beauty in terror?
Or an even darker reflection?
Defects perfectly rendered
in a defects mirror.
Forgotten faces drift hazily to mind
as dust is shaken off
encrusted eyes,
and it's real
one more time.
The libidinal charge
of de Kooning's women.
They don't even know what hit them.
Certain truths can only ever be painted,
and some so true.
Goya, Bruegel, and Bosch.
Such is the power
of nightmares.
It's a hundred years from now , and these pictures hang
on the glittering bones of the museum wall,
People devour them
as we devoured on another.
*****
Beautiful dreamer, wake into me,
Starlight and dewdrops are waiting for thee;
Sounds of the cruel world, heard in the day.
Lull'd by the moonlight have all pass'd away!
Beautiful dreamer, beam on my heart,
When will these clouds of sorrow depart,
Beautiful dreamer, awake unto me!
Beautiful dreamer,
awake unto me!
Bob Nickas, 2012
2nd section,
after Stephen Foster, 1865.
Opening lines by way of Elliot Murphy.
Join our Mailing List